*Please note: This Schedule lists Child/Teen Dance Classes for Fall/Spring 2023/24 (August 18th, 2023 to June 14th, 2024) only—for Adult Classes, go here.
*Registration is open all year through April 15th as space permits. Please register as early as possible to gain the maximum benefit of each class and to guarantee your spot!
Child/Teen Dance Schedule Fall/Spring 2023/24
Register for Dance Classes HERE!
Sign up now for classes!
International Academy of Dance offers pre-professional dance training, starting at 2.5 years old! Monthly tuition is the same each month regardless of holidays or missed classes and is based on the period from 8/18/23-6/15/24 and is divided into 10.5 equal monthly payments beginning 8/18 or whenever classes begin. Tuition is due monthly on the first of each month. Tuition may be canceled at anytime by notifying the office in writing at least 10 days prior to the 1st of the month. Annual registration ($55) is due each academic year. Tuition is pro-rated based on start date.
*Teachers & schedule subject to change. Performance Team Ensemble (Ballet, Lyrical/Jazz, Tap) tuition is separate from IAD tuition.
Want to see the Child/Teen Class Schedule Broken Down By Level?
If the colorful schedule above is a little hard on your eyes, you can see each individual level's classes here:
Child/Teen Fall Schedule FAQS
Child/Teen Class Rates
*IAD only—Performance Team (Ballet, Lyrical/Jazz, and Tap) rates are separate.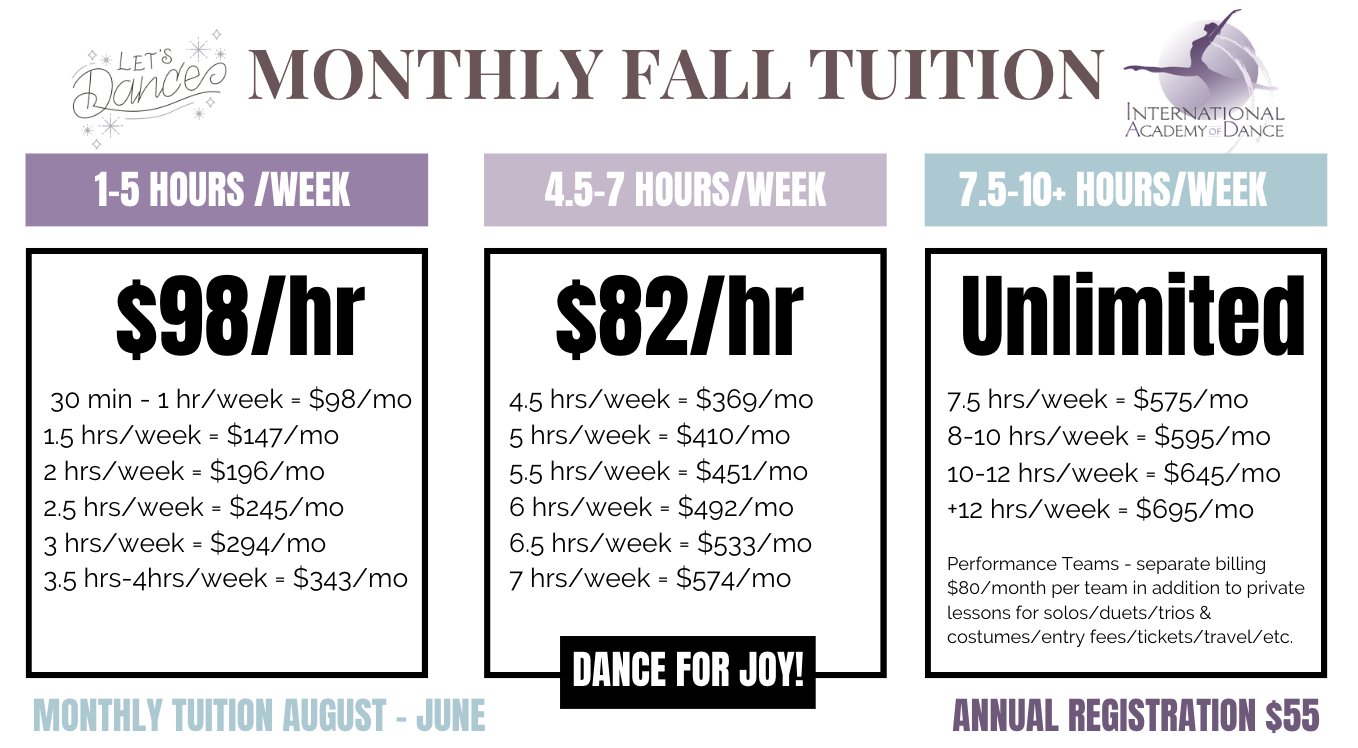 Explanation on Rates
The three squares above show the different rates for tuition. And so, pricing per hour decreases as more hours per week are added. The lowest rate, for half an hour to an hour of dance class a week, is $98 per month. Pricing increases incrementally by $98 per extra hour of dance classes per week, until four hours is reached.
Once four hours are reached, the price shifts to just $82 per hour of dance per month, which means you can dance four hours a week, for just $369/month! This is a great tipping point in our scale, as for $75 more than the 3 hours per week bracket (priced at $294), you can have a whole extra hour of dance!
If you'd like this system to be broken down further, please contact us! Our number is 831-466-0458, or you can reach the front desk at frontdesk@iadance4joy.com.
Still not convinced? Sign up for a trial class!
We know that dance is an expensive endeavor, so if you're still on the fence, give a trial class a shot! Our trial class system provides an opportunity for dancers to see what it's like to dance with us before enrolling. Furthermore, each of our teachers is welcoming to all new students, and will give you a wonderful first-time experience.
Lastly, let's talk about the affordability of the trial class. Each trial class is just $20! To sweeten the deal, if you enroll (or for adults, if you purchase a 10 Class Pass) within a week of your trial class, we'll apply the $20 trial fee to your registration fee! So that means that you get that $20 back! And so you can see, there's really no reason to not sign up for a trial class.
REGISTER FOR TRIAL CLASS