Sign up for Adult Dance Classes Here!
Adults are dancing! It's never too late to start, or begin where you left off…
We look forward to dancing with you soon!
See the schedule of adult dance classes and follow the 'Register' button (It'll bring you to a Google Form) to sign-up, or Click Here. Then, you will receive a phone call and email confirming your class once it gets processed by our staff.
For our Child & Teen classes, visit here.
Adult Dance Class Schedule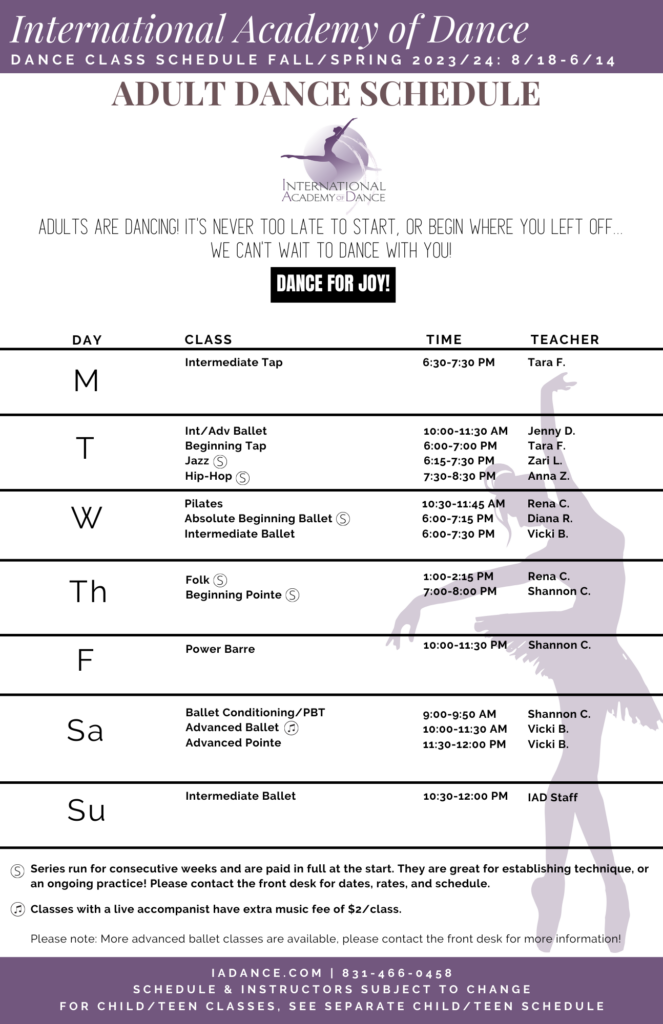 About our Adult Dance Classes
Dancing is a great way to exercise your body, mind and spirit! And IAD offers inspiring and nurturing adult dance classes from the Beginner level through Advanced in Ballet, Jazz, Modern, Contemporary/Hip-Hop, and Tap. All our adult dance classes are available by drop-in or class card and pre-registration is not required for most classes. So sign-up for a class today!
IAD offers a spacious state of the art facility with sprung floors, and the same Marley dance surface used by the Royal Ballet. So this means you will find the highest caliber training in a comfortable and encouraging atmosphere. Many of our instructors have been successfully training and coaching professional dancers in Santa Cruz for over 20 years.
We are back in the studio! We look forward to dancing with you very soon!
New Student to IAD: Trial Class – $20 (This $20 can be applied to a 10 Class Pass if bought within a week of the Trial Class, reducing it from $195 to $175!)
Ballet or Dance Classes
Single – $22
Five – $105
Ten – $195
If you're completely new to Ballet, consider our supplemental Beginning Ballet Online Course – $97
Pointe Classes
Single – $17.50
Ten – $145
To make it easier on you, we've included these purchase links so you can buy new class passes on your own! Please only use these purchase links if you're a Returning Student! For new student registration, please use this link (we'll give you a special deal too!).
IMPORTANT INFORMATION ABOUT CLASSES DUE TO COVID 19
For the safety of each person in the studio class, please pre-register for all adult classes whether dancing on-line or in-person.
Pre-register at least 24 hours in advance to ensure we have adequate space for social distancing and to help us ensure your spot at the barre is reserved.
For the safety of our dancers, all Zooming classes are passcode protected and require pre-registration.
DO NOT ATTEND if you have any sign of sickness/fever or if anyone in your household or anyone you have come in contact with in the last 14 days has shown signs of sickness or fever.
Student temperatures may be monitored with a digital thermometer.
Until further notice everyone must wear a mask at all times in the studio, as at the gym. Accordingly, there will be plenty of opportunities for fresh air.
Prior to attending classes, please make sure you have filled out your Class Sign-up form, indicating which class(es) you are interested in joining, whether on Zoom or in person, and your commitment level to the class and payment method.
Please make sure to fill out the waiver before your first class. Once you complete the waiver, you can either email it to us or bring it to your first class.
Dancers that are pre-registered are invited to enter the studio 5 minutes prior to the start time. Please note: the outside doors will remain locked all other times.
Please arrive dressed and ready to dance.